Fall seven times and stand up eight.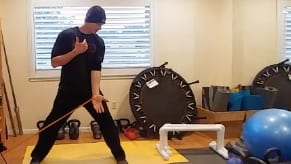 Movement Rehabilitation
Don't be held back by movements that hurt any longer…Learn how to take a step by step, joint-by-joint approach to rehab your body so you can begin to move easier, with less effort and less pain.  Work towards rehabbing and stop being held back from tightness, inflexibility and pain. 
Sometimes in life movement hurts, or in some cases you may just not be able to move well and that holds you back from doing the regular things in life that you need to get done, or to be able to enjoy the things you want.
Whether you suffer from:
Shoulder pain

Knee pain

Back pain

Stiff joints or muscles
Learning how to move more intelligently can recalibrate your movement maps helping you to move better and get back to doing the things you love.
I've been teaching people how to move better for over 13 years using a system called Z-Health.  I've spent a tremendous amount of time studying the nervous system under Dr. Eric Cobb, the creator of Z-Health, eventually becoming a Master Trainer in 2012.  Applying the teaching principles that Dr. Cobb developed has allowed me to work with a variety of people from many walks of life eliminating aches and pains, while improving strength, flexibility and helping people achieve a better outlook on life getting back to do the things they want to and exploring new territory with their new pain free body.
There is hope for you too.  If you suffer from pain or stiffness that limits your movements, we can develop a plan of action that can help to rehabilitate your body.  
When we talk about rehabilitation, it's not your typical physical therapist approach.  What we are looking to do is to re-educate your nervous system into clarifying your movement maps.  This is what will help your brain to eliminate pain responses and give you more freedom and flexibility when it comes to your everyday movements.
What if you have a hard time when playing sports or doing certain activities?  The great thing is that the system you will learn starts from a solid foundation and can be adapted to help you improve sports performance or any other special activity that is being hindered by painful or stiff movements.
If you are ready to make a change and start moving better, feeling better and performing better overall, get in touch with me asap and we can set up a consultation to see what the best approach is for you to take to rehabilitate your body
Contact Get Fit Stockton For Personal Training Services & Get Results!
I know that it can be challenging taking those first steps towards a better you.
There is no better time than right now, to make the decision that you want to improve.
I am here to get you on the right path to success.
Whether you are looking for support and coaching for weight loss and strength training, or you need rehabilitation due to an injury.
Don't keep putting it off, start today, build your confidence back up, Get Fit Stockton is here for all your personal training needs.
Contact me now!
Fill out the form to get started!